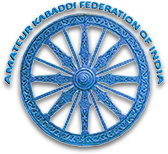 AMATEUR KABADDI FEDERATION OF INDIA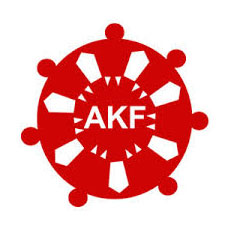 ASIAN KABADDI FEDERATION
The Asian Kabaddi Federation [AKF] was formed in the year 1978. The 1st Asian Kabaddi Championship was held in the year 1980 and was included as a demonstration game in the 9th Asian Games, New Delhi in the year 1982. The game was included in the South Asian Federation (SAF) games from the year 1984 at Dacca, Bangladesh. Kabaddi was included as a regular sports discipline in the 11th Beijing Asian Games 1990, Hiroshima 1994, Bangkok 1998, Busan 2002, Doha 2006, Guangzhou 2010, Incheon 2014 & at Jakarta in 2018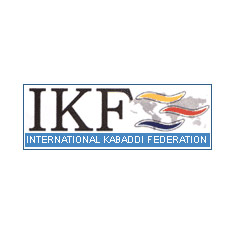 INTERNATIONAL KABADDI FEDERATION
The International Kabaddi Federation [IKF] was formed during the 1st World Cup in Kabaddi 2004 at Mumbai in India. The First Asian Women Championship was held at Hyderabad in 2005 and Women Kabaddi was included for the first time in the South Asian Games held in Colombo, Sri Lanka in 2006. The second World Cup for men was held in India at Panvel in 2007. The first Women World cup was conducted at Patna, Bihar, India in 2012. The third World cup Kabaddi - Men was held at Ahmedabad 2016.
Mr. J.S.Gehlot, President
IKFPRESIDENT 2, "Aakanksha"
Ajmer Road,
Jaipur – 302 021,
India
Tel. No. +91-141-2351983 & 2352135
Email: internationalkabaddi@gmail.com
Mr. Yeong Hak Yoon, Secretary General, IKF
8401 Sports Science College, D
ong-a University,
Hadan-Dong, Saha-ku,
Busan 604-714,
Republic Of Korea,
Fax No. +82-51-207-0900,
Tel No. +82-51-207-0900
Email: ohakyoon@yahoo.co.kr
Member Countries
S.No.

COUNTRY

ABBR
1
Afghanistan

AFG

2
Australia*

AUS

3
Austria*
AUT
4
Bangladesh

BAN

5

Bhutan

BHU

6
Cambodia

CAM

7
Canada

CAN

8
Chinese Taipei

TPE

9
France*
FRA
10
Germany*

GER

11
England

ENG

12
India

IND

13

Indonesia

INDO

14
I.R. Of Iran

IRI

15
Italy
ITA
16

Japan

JPN

17
Kyrgyzstan

KYG

18
Malaysia

MAS

19
Maldives
MDV
20
Nepal

NEP

21
Norway*

NOR

22
Oman

OMA

23
Pakistan

PAK

24
Republic Of Korea

KOR

25
Spain*

ESP

26
Sri Lanka

SRI

27
Sweden*

SWE

28
Thailand

THA

29
Turkmenistan

TUR

30
U.S.A*
USA
31
West Indies
WI
Source:International and Cross-Strait Sports Division,
Date:2019/04/16https://www.sa.gov.tw/English/index
https://www.sa.gov.tw/English/PageContent?n=3585
Huang Chung-Jen Elected as the First Chairperson of the East Asia Kabaddi Federation, Director-General Kao Delighted About the Indispensable Role Taiwan Played ....
At the preparatory meeting for the East Asia Kabaddi Federation (EAKF) on February 21, Chinese Taipei Kabaddi Federation (CTKF) President Huang Chung-Jen was elected as the first chairperson of the EAKF. President Huang accompanied International Kabaddi Federation (IKF) Secretary General Yoon Yeong Hak, Korea Kabaddi Association President Kang Yang Soo, Japan Kabaddi Association Secretary General Koji Kawai, China Kabaddi Association Preparatory Committee Chairperson Wang Yubin, and Hong Kong China Kabaddi Association Chairperson IP Chong Hing on a visit to Director-General Kao Chin-Hsung of the Sports Administration, Ministry of Education, and opinions were exchanged on the establishment of the EAKF and the promotion of kabaddi.
After hearing of President Huang Chung-Jen's election as chairperson of the EAKF, Director-General Kao offered his congratulations and stated that the Sports Administration will fully support EAKF and CTKF in promoting various international exchange events to enhance links with international kabaddi circles.
Kabaddi, one of the most popular sports in Southeast Asia, was originated in India, Pakistan and Bangladesh, and it is an official sport discipline of the Asian Games. After coming to Taiwan for the preparatory meeting of the EAKF, IKF Secretary General Yoon Yeong Hak is full of confidence with regard to promotion of the sport in East Asia. He commented, "The IKF continually strives for the internationalization, popularization and the elevation of the competitive level of kabaddi and encourages various countries to host international kabaddi events. Thanks to the Sports Administration and the CTKF for supporting the establishment of the EAKF. I firmly believe that this will help kabaddi grow strongly in East Asia."